Pyrolysis equipment ongoing shipments to Europe
Section:
News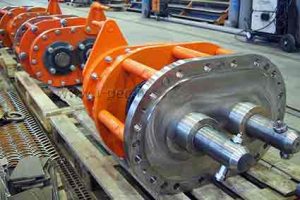 Next scheduled batch of components for TDP-2-2000 pyrolysis plant was sent to Estonia from IPEC production site by the order of Viru Keemia Grupp, one of the world's largest producers of shale oil.
The equipment was designed for the treatment of slate tar by-products formed as a side stream in coking process.
Processing of organic waste with an increased content of resinous substances and mechanical impurities using the technology of continuous pyrolysis, implemented in TDP, will safely dispose slate tar, and as a result, obtain products in the form of synthetic gas, liquid fuel oil and dry residue.
Slate tar thermal treatment equipment is TÜV Nord certified and includes two TDP-2 continuous mode pyrolysis units with a capacity of at least 1.5 tons of waste per hour each.